A video of high school girls being sprayed by a knapsack sprayer like cattle has surfaced online causing an uproar.
The students dressed in dark brown uniform were being sprayed one by one, both at the front and back side before going to the tuition blocks.
The form four girls were sprayed with the chemical meant to sanitise them as the school sought to adhere to COVID-19 containment measures.
A number of Kenyans online called out the school for exposing the girls to inhuman treatment in the name of sanitising them.
"This is overreacting and very disturbing to me as a parent," one parent exclaimed.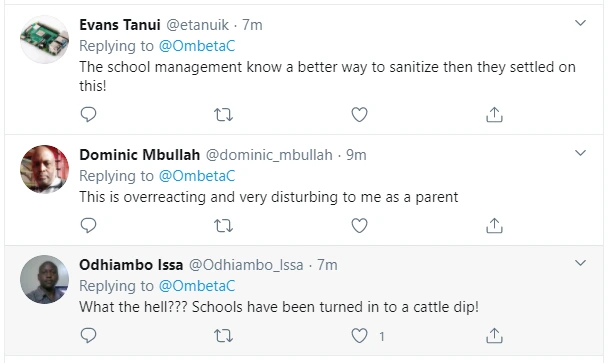 Bravin Yuri: When we say CS Magoha has no plan of keeping our students safe, they say we don't want students to go back to school. How is this keeping the students safe? What kind of chemical is being used? You are all gonna kill our students even before Coronavirus does
Dr Alfred Mutua: If this is true , then it is despicable. What type of people are we? This is not only dangerous but totally unnecessary. We should know better. I feel sorry for the school children. Where is this?
Gerald Ngao: Warrathis. What the hell! Knapsack sprayer on human beings!? Oh Girlchild! This is the Country of Karl Marx
Bagwasi Masaka: This is extremely absurd, inhuman and to say the least, sickening
Patrick: This is too much now… the physical, emotional and social well-being of these girls will be affected..The is not "health"..abuse to the rights of these girls…I condemn the action
Comments
comments