Controversial Kenyan blogger cum YouTuber Edgar Obare went missing for the better part of Monday, leaving his fans fearing for the worst after he was kidnapped from Kiambu Law Courts where he had gone for a mention of his case.
According to him, the hearing was supposed to be virtual but somehow they insisted that he had to show up physically in the last minute.
The tea master had to oblige and so he went to court.
As he entered the court compound, he was accosted by plain-clothed police officers who bundled him into a car and drove off.
While in the car, he was handcuffed tightly and humiliated to the extreme.
Apart from insulting him using harsh words, one even threatened to rape him. They beat him and stripped him of his clothes.
They then allegedly took photos of his body including that of his manhood.
When they were done with him, he says that they threw him into a thorny bush is a place far from Nairobi.
He was only saved by a Good Samaritan who gave him food and some clothes for him to wear.
Following his narration, celebrities immediately took to the comment section of his IG post to condemn the brutality exhibited by the police in the strongest terms possible.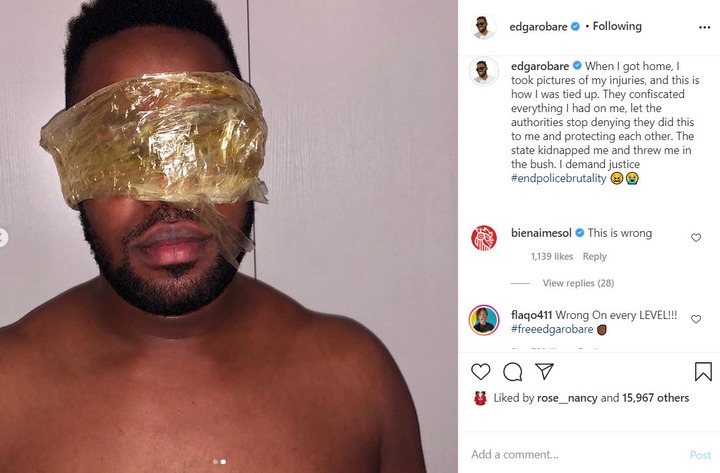 Sauti Sol's Bien Baraza commented by simply saying, "This is wrong."
Comedian Flaqo remarked, "Wrong On every LEVEL!!! #freeedgarobare ✊🏾"
Socialite Corazon Kwamboka exclaimed, "Oh my goodness!"
Singer Wambui Katee wrote, "What the!.. This is really out of hand and pure torture! #endpolicebrutality."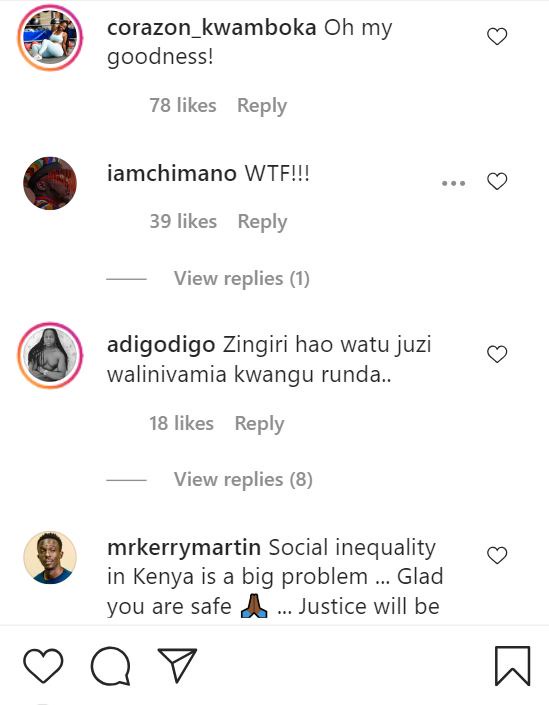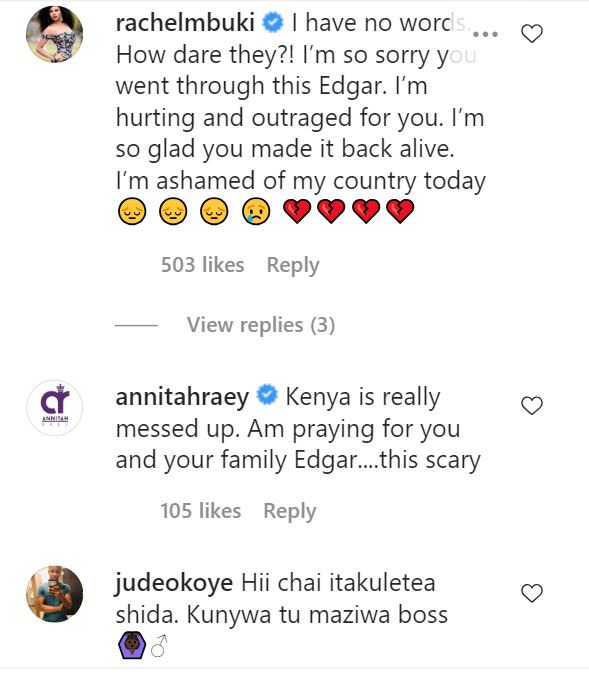 Unlike the other celebrities who have been flocking Edgar Obare's page to console him for the traumatizing experience; Joe Muchiri has chosen to go the opposite way.
Through his IG page the media personality rubbished Obare's claims, saying he is just an attention seeker.
Comments
comments