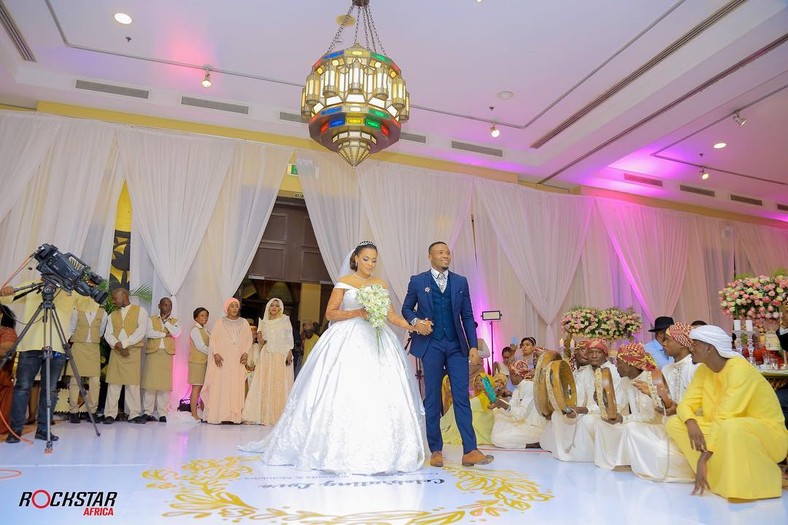 Tanzanian tabloids have for sometime now been spreading the rumor that Rockstar Africa signee Alikiba is almost parting ways with his wife Amina Khalef if it has not already happened.
King Kiba has for the first time  come out to clear the air and confirm that they have issues but it has not come to that point.
"Ni kweli mimi na mke wangu tuna migogoro na ni jambo la kawaida kwenye ndoa, ila sijampa talaka hata moja," said Ali Kiba in an interview with Clouds FM.
The Kings Records CEO went ahead to warn bloggers and rumor mongers against enjoying other people's suffering.
"Watu wasipende kufurahia matatizo ya wenzao, au labda ni ukosefu wa kazi, hakuna jambo ambalo Mwenyezi amelihalalisha na analichukia kama talaka. Binadamu unapata wapi ujasiri wa kuchochea wenzako waachane kwenye ndoa, ni shetani tu ndio anapenda ujinga huo," added the singer.
He explained that the reason his wife was seen in Mombasa was because he was leaving on a Europe tour. He therefore took her to their home in Mombasa where she could also work since she is a professional.
The singer also praised her mother for being their negotiator when they have issues in the family.
"Mama yangu ndio msuluhishi mkuu ikitokea mimi na mke wangu tuna ugomvi, sijapenda watu waliojaribu kumkosea adabu Mama yangu," stated the emotional Alikiba.
Comments
comments